It can take just one uninsured medical incident to cripple you financially
If you (and your employees) travel for work and your current medical insurance plan doesn't cover you outside of your country of residence, you're putting your health and future financial stability at great risk.
One medical incident outside your area of cover could be financially crippling, not to mention dangerous if a medical evacuation is required, or if the local healthcare services don't have the capacity or specialist care you need to save your life.
Below is an infographic using The Unisure Group's data to outline what an international medical emergency could cost you if you're not internationally insured: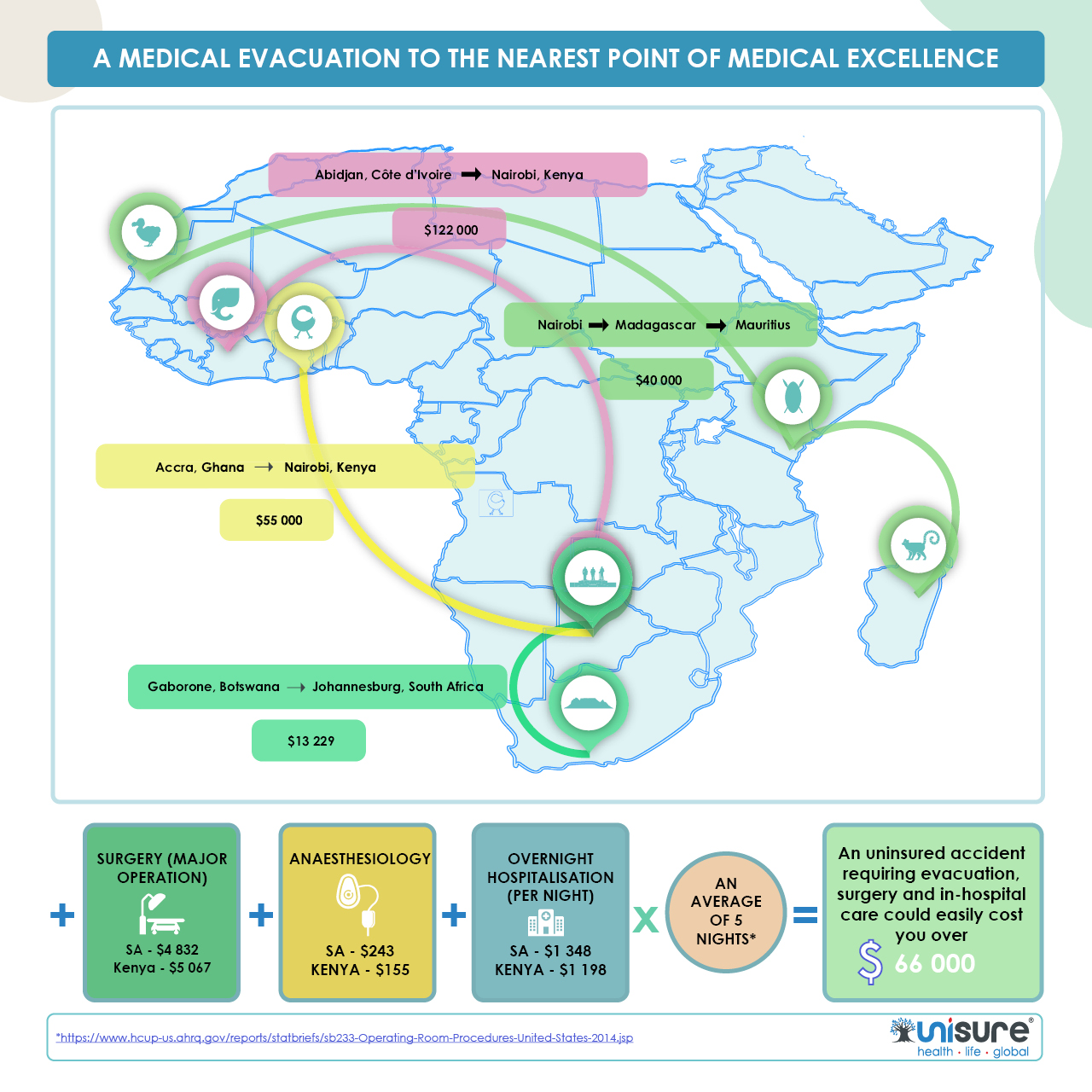 That's where the value of an international private medical insurance (IPMI) plan comes in, by offering in-country and international cover (including medical evacuation) and worldwide customer support.
When choosing your medical insurance provider, take the time to do your homework on the following:
Their exact areas of cover
Their experience and track record in these areas
Their plan's annual benefit limits (and the possibility of you paying hefty co-payments on your treatment)
What their availability is in an emergency (no matter what the time or place)
If abroad and in need of medical care, you want an insurer that is ready for your call, has a global network to rely on, is experienced in all territories (in even the most remote African locations), compassionate and with you every step of the way. At The Unisure Group, we believe that we do international private medical insurance like no other.
Our benefits live up to their promises
The benefits we offer are USD-based and generous enough to offer you a wallet-free experience. That means that either for treatment in-country or internationally, you need not worry about expensive co-payments and inadequate cover.
Without generous benefits and international cover that extends beyond your home borders, you'll be expected to pay in cash upfront and (at best) claim back a portion from your insurer. But when your insurer has a global network, you can be treated without being charged in advance. This is a massive benefit, especially if you're a frequent flyer and regularly travel and conduct business abroad.
We do Assistance Provision like nobody else
You're never alone when you need medical assistance internationally. We pride ourselves on having a highly-trained and experienced 24/7 operations team on standby to assist you. To us, you're not a number in a call centre queue and you will never be answered an automated voice service. Our operations team comprises, compassionate people who love what they do and who strive to provide the best possible care on a personal basis.
"From my own experience, when you are in a foreign country and you're unwell, it is really difficult to establish where to go, or who to phone when you have a medical emergency," explains Daniel van der Merwe, Head of The Unisure Group's International Private Medical Insurance (IPMI) division. "You always hope for the best by trusting the advice of complete strangers and you don't always have the luxury of time – or money – to do otherwise."
"With our level of Assistance Provision, however, we're there to help with something as small as finding the closest facility to be treated by a recommended doctor in our network and as big as arranging for an emergency medical evacuation," he explains.
"We're incredibly proud of the fact that we've cut our teeth in Africa, because I think if you can make it work in a complex environment such as Africa, then you can make it work anywhere. Having said that, however, we have clients in over 95 countries around the world, so whether you're an expatriate from the UK living in the Democratic Republic of Congo, or a Kenyan Director on short-term assignment in Singapore, we've got the experience, the capability, the medical infrastructure networks, and the financial stability to help you anywhere, and at any time."
For more information on The Unisure Group and our health and life insurance solutions, email info@unisuregroup.com.